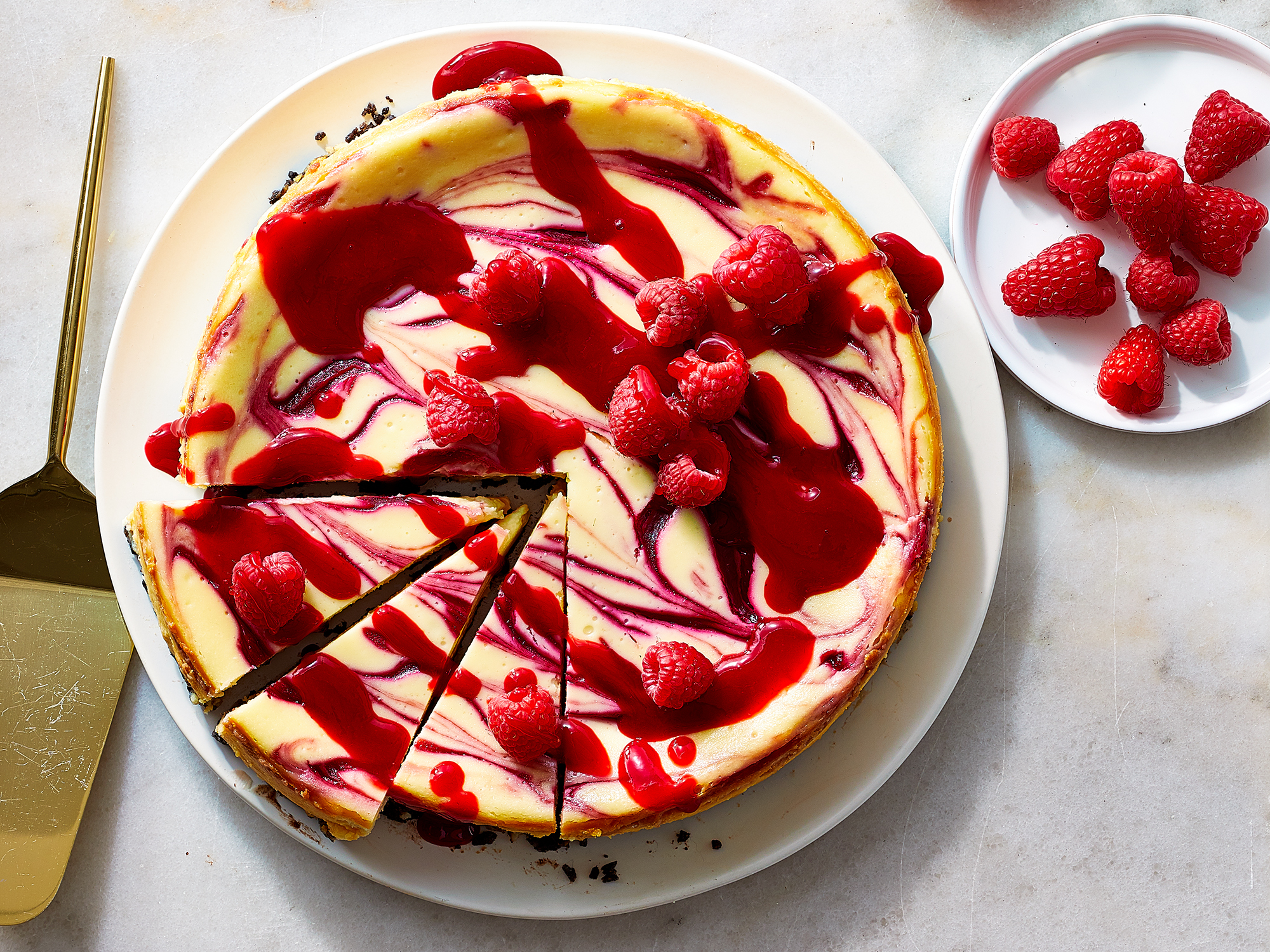 White Chocolate Raspberry Cheesecake
This white chocolate raspberry cheesecake is decadent and creamy, swirled with raspberry sauce and baked in a chocolate crust. No water bath needed!
Makes:16 servings
Ingredients
1 cup chocolate cookie crumbs
¼ cup butter, melted
3 tablespoons white sugar
1 (10 ounce) package frozen raspberries
½ cup water
2 tablespoons white sugar
2 teaspoons cornstarch
2 cups white chocolate chips
½ cup half-and-half cream
3 (8 ounce) packages cream cheese, softened
½ cup white sugar
3 large eggs
1 teaspoon vanilla extract
Save to Recipe Book
Print
Email
Note: An Instacart account is required to proceed to purchase online. If you do not have an Instacart account please
click here
to create. Once account has been created, you can return to this page to complete the checkout.
Directions
Prep:25 mCook:70 mReady:9 h 35 m
Make crust: Mix together cookie crumbs, melted butter, and sugar in a medium bowl. Press mixture into the bottom of a 9-inch springform pan.
Make sauce: Combine raspberries, water, sugar, and cornstarch in a saucepan. Bring to a boil and continue boiling until sauce is thick, about 5 minutes. Strain through a mesh strainer to remove seeds.
Preheat the oven to 325 degrees F (165 degrees C).
Make cheesecake: Melt white chocolate chips with half-and-half in a metal bowl over a pan of simmering water; stir occasionally until smooth.
Mix together cream cheese and sugar in a large bowl until smooth. Beat in eggs one at a time. Blend in vanilla and melted white chocolate mixture. Pour 1/2 of the batter over crust. Spoon 3 tablespoons raspberry sauce over batter. Pour remaining cheesecake batter on top. Spoon 3 tablespoons raspberry sauce over batter. Swirl batter with the tip of a knife to create a marbled effect.
Bake in the preheated oven until filling is set, 55 to 60 minutes. Cool cheesecake at room temperature, then cover with plastic wrap and refrigerate until thoroughly chilled, 8 hours to overnight.
Remove cheesecake from the pan and serve with remaining raspberry sauce.